Women's History Month may be coming to a close, but we want to share one more woman whose impact has been too large to ignore. Servane Mouazan, is dedicated to supporting women led startups.  A common thread to how these women live there lives has emerged; find your passion, don't give up, don't let anyone tell you no and change will happen. The inspiration I have felt researching and writing these posts has been immeasurable. Thank you to all the women who have paved the way before us so we may continue the journey.
Servane Mouazan - F
ounder of Oguntê, a B Corp certified Community Interest Company (CIC)
Like many women Servane Mouazan's life has had some twists and turns, but speaking 5 languages has helped her cultivate a global network of impact driven women dedicated to spearheading conscious social entrepreneurship. Servane Mouazan created the Women's Social Leadership Award  and Make a Wave to aide women led initiatives to grow and successfully scale up. The mission was to help 250 women grow 250 social businesses in 250 days. Working with the Match International Women's Fund an Equality Fund supporting women and girls projects all over the world and Womanity Foundation investing in evidence-based programs to combat gender-based violence Servane Mouazan is committed to inspiring women to help women.
We hope you have been inspired by some of the women we celebrated this month.  We know there are so many more women throughout the world doing amazing things and inspiring future generations.
Share a story about an inspirational woman in your life. Go to our social media pages Facebook, Instagram, Pinterest and share your story.
Thanks for reading,
Savvy
We may receive a small commission at no additional cost to you from the links below and in the post above, but we think these companies are worth sharing.
Inspiring Reads -

  
Fund literacy and protect the planet when you buy books from Certified B Corporation, Better World Books. To date Better World Books has donated over 31 million books, raised over $32 million to fund literacy programs and libraries and reused or recycled over 386 million books keeping them out of our landfills.
Shop our Women Owned Collection:

 

Support women who have turned their passion for saving the planet into beautiful, high quality home décor items. Perfect to showcase in your home or to gift to someone who will treasure the impactful story behind the item.
In Case You Missed It -

 
ECOS Paints - Environmentally friendly, water based paints for your home that is non-toxic, zero VOC and hand crafted in their South Carolina plant. Exceptional coverage up to 560 sq. ft. per gallon and a transparent ingredient list make ECOS Paints the healthy home choice.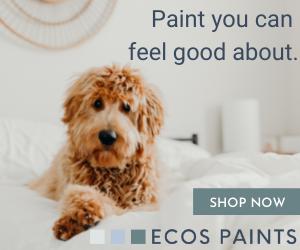 East Fork Pottery takes a stand for social equality.  Partnering with community outreach organizations to stretch outside their comfort zone; paying employees a living wage, they are now working towards increasing wages to a family living wage.  Receiving Carbon Neutral Certification and B Corporation Certification has inspired them to make even greater changes. East Fork's About Page was part of our inspiration for starting The Savvy Elephant. AND we haven't even touched on how stunning and beautiful their pottery is!  See for yourself by clicking through to the East Fork Website.  

Want More 
Leave a comment below, or drop us a line if you have a question or want us to look into a topic you think will interest The Savvy Elephant community.