The holidays; love it, or hate it, there is no avoiding it. If you feel like November and December are about everyone except you, you are not alone, but this time of year; when the days get shorter and colder, and the demands get bigger and longer, is the most important time to take care of yourself first. 
Keep reading for The Savvy Elephant's simple ideas to create your self-care zone and actionable steps by Jenn Trepeck; Optimal Health Coach, Podcaster, and Business Consultant.
Jenn Trepeck has been described as a "force of nature" in wellness, has been recognized as one of Podcast Magazine's 40 under 40, and was nominated for the 2022 International Women's Podcast Award for Visionary Leadership. After over a decade of coaching clients, Jenn started Salad with a Side of Fries Podcast to help pay it forward and reach a larger audience to teach the nutrition education we are all supposed to know but no one ever taught us.
 Creating a space that feels special to you synthesizes the physical, mental and emotional. For those of you that find it hard to sit still, a rocker is a perfect way to stay focused and in motion. Each space is going to look different depending on how you use it, but some key elements from Jenn Trepeck include, for morning or to energize you let natural light in, for evening or to encourage relaxation keep lighting dimmable. Remember electronics emit light similar to daylight, stimulating your brain so if you want to read, keep a paper book nearby and your phone or tablet far away.
The right temperature is also important. Keep the air circulating with a fan. Fans are also helpful for white noise if you want to drown out the traffic or neighbor mowing the lawn. Keep a cozy blanket nearby to avoid a chill and add a fun throw pillow. 
Layer in some fragrant candles to help set your mood and connect with nature with air-purifying live plants. When creating your space help the planet by choosing sustainable materials such as certified wood and organic cotton.  Water-based finishes and natural dyes keep you healthy reducing unwanted chemicals in your home. Look for brands that support living wages throughout their supply chain such as certified B Corps.

Working with clients on food issues and healthy lifestyle choices the amount of chemicals we come in contact with on a daily basis is a concern for Jenn Trepeck and she shares a really powerful image about detoxing being more than just a fad, "Your body is detoxing all the time...a constant process and the burden that we place on that process is a function of every piece of our lifestyle." The liver is vital to our body's metabolic functions and immune system and Jenn goes on to state, "If our liver is trying to process toxins coming in from our mattress; that we spend 8 hours a day on, it's not getting to the sugar, it's not getting to the fat, it's not getting to all the other things our liver needs to do because it's overloaded" so pick your battles and find reasonable ways to relieve the "toxic burden" in all areas of your life.
For many, the pitfalls of the holidays center around excess food and drink.  When your favorite Auntie starts cutting half of her special pumpkin pie just for you; because she knows how much you love it, thank her for remembering, ask for a smaller piece and tell her how much you look forward to seeing her every year and hearing her stories. Jenn's advice, "Acknowledge what's behind the other person's thing (pie)...understand where they are coming from and give them that (the pie is made with love)...give them an alternative (a smaller piece and time to chat) because most of the time people don't know what the alternative looks like."
Jenn Trepeck refers to our lives as one big circle, "Everything we do for ourselves, supports everything we need to do and want to do for everyone else. It does not take away from it." so if getting to a specific exercise class means you will be more present when the family comes over, do it. "What do you need, to make you, feel like you? Prioritize that." because if you are happy everyone around you will be too.
We are grateful to Jenn Trepeck for taking the time to share some of her tips for creating a healthy environment, not just for the holidays, but every day. You can find out more about Jenn or subscribe to her podcast below:
@JennTrepeck (IG, FB, Twitter, TikTok)
@saladwithasideoffriespod (IG only)
www.asaladwithasideoffries.com
How do you take time out for yourself? Go to our social media pages Facebook, Instagram, and Pinterest, and share your story.
Thanks for reading,
Savvy
We may receive a small commission at no additional cost to you from the links below and in the post above, but we think these companies are worth sharing.
Inspiring Reads -

  
Fund literacy and protect the planet when you buy books from Certified B Corporation, Better World Books. To date, Better World Books has donated over 31 million books, raised over $32 million to fund literacy programs and libraries, and reused or recycled over 386 million books keeping them out of our landfills.
In Case You Missed It - 
PlushBeds is committed to using certified organic and natural materials to handcraft, high-quality, eco-friendly mattresses and bedding accessories. GOTS Certified, GOLS Certified, GreenGuard Gold Certified, CertiPur Certified are just a few of the third-party certification standards PlushBeds adheres to. USA made in California using handcrafted techniques passed down through generations ensures that each mattress has the quality, durability, and support you deserve for a superior night's sleep. PlushBeds backs this up with a 25-year warranty, 100 night risk free sleep trial, and free shipping. 

ECOS Paints - Environmentally friendly, water-based paints for your home that is non-toxic, zero VOC and hand crafted in their South Carolina plant. Exceptional coverage up to 560 sq. ft. per gallon and a transparent ingredient list make ECOS Paints the healthy home choice.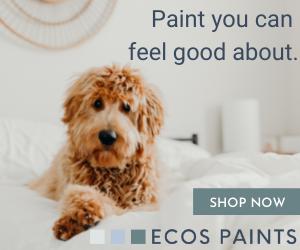 East Fork Pottery takes a stand for social equality.  Partnering with community outreach organizations to stretch outside their comfort zone; paying employees a living wage, they are now working towards increasing wages to a family living wage.  Receiving Carbon Neutral Certification and B Corporation Certification has inspired them to make even greater changes. East Fork's About Page was part of our inspiration for starting The Savvy Elephant. AND we haven't even touched on how stunning and beautiful their pottery is!  See for yourself by clicking through to the East Fork Website.  

Want More 
Leave a comment below, or drop us a line if you have a question or want us to look into a topic you think will interest The Savvy Elephant community.
The Savvy Elephant is an online marketplace bringing you heirloom quality sustainable furniture and home décor. Shop responsibly with brands that support your values.