Lounging by the pool, picnicking in the park, or taking a long flight I always make sure to pack a couple of books to suite every mood. So grab your favorite blanket or nestle into your bed and escape with one of Savvy's favorite reads. The books below are sure to inspire, lift your spirits, bring you joy and whisk you away to lands beyond your every day.
Purchasing through one of the links below supports Certified B Corporation Better World Books committed to funding literacy programs raising over $34M and keeping books out of landfills with over 450M books reused or recycled. 
We may receive a small commission at no additional cost to you from the links below, but we think these companies are worth sharing.
A "profound and soul-nourishing memoir" ( Oprah Daily ) from an African girl whose near-death experience sparked a lifelong dedication to humanitarian work that helps bring change across the world. Elizabeth Nyamayaro's memoir brings to vivid life one extraordinary woman's story of persevering through incredible odds and finding her true calling--while delivering an important message of hope, empowerment, community support, and interdependence.
by The Dalai Lama and Howard C. Cutler M.D.
He's the Dalai Lama, the spiritual and temporal leader of Tibet, a Nobel Prize winner, and a hugely sought-after speaker and statesman. If you ask him if he's happy, even though he's suffered the loss of his country, the Dalai Lama will give you an unconditional yes. What's more, he'll tell you that happiness is the purpose of life, and that the very motion of our life is toward happiness. How to get there has always been the question. Through conversations, stories, and meditations, the Dalai Lama shows us how to defeat day-to-day anxiety, insecurity, anger, and discouragement. Together with Dr. Howard Cutler, he explores many facets of everyday life, including relationships, loss, and the pursuit of wealth, to illustrate how to ride through life's obstacles on a deep and abiding source of inner peace. 
Hoffman grounds her expansive, intricately woven, and deepest new novel in biblical history, with a devotion and seriousness of purpose" (Entertainment Weekly). Nearly two thousand years ago, nine hundred Jews held out for months against armies of Romans on Masada, a mountain in the Judean desert. According to the ancient historian Josephus, two women and five children survived. Based on this tragic and iconic event, Hoffman's novel is a spellbinding tale of four extraordinarily bold, resourceful, and sensuous women, each of whom has come to Masada by a different path...
An imaginative alchemy, in which the future of a magical Middle Eastern kingdom rests in the hands of a clever and defiant young con artist with miraculous healing gifts. When Nahri accidentally summons an equally sly, darkly mysterious djinn warrior to her side during one of her cons, she's forced to question all she believes. For the warrior tells an extraordinary tale: In Daevabad, within gilded brass walls laced with enchantments, behind the six gates of the six djinn tribes, old resentments are simmering. When Nahri decides to enter this world, she learns that true power is fierce and brutal. That magic cannot shield her. That even the cleverest of schemes can have deadly consequences. After all, there is a reason they say to be careful what you wish for . . .
Follow twelve characters from Native communities: all traveling to the Big Oakland Powwow, all connected to each other in ways they may not yet realize. There is Jacquie Red Feather, newly sober and working to make it back to the family she left behind. Dene Oxendene, who is pulling his life back together after his uncle's death, has come to work at the powwow to honor his memory. Fourteen-year-old Orvil has come to perform traditional dance for the very first time. Together, this chorus of voices tells of the plight of the urban Native American--grappling with a complex and painful history, with an inheritance of beauty and spirituality, with communion and sacrifice and heroism. There There is at once poignant and laugh-out-loud funny, utterly contemporary and always unforgettable.
What is on your reading list this summer? Go to our social media pages Facebook, Instagram, Pinterest and share your story.
Thanks for reading,
Savvy
We may receive a small commission at no additional cost to you from the links below and in the post above, but we think these companies are worth sharing.
Inspiring Reads -

 
Fund literacy and protect the planet when you buy books from Certified B Corporation, Better World Books. To date, Better World Books has donated over 35 million books, raised over $34 million to fund literacy programs and libraries, and reused or recycled over 450 million books keeping them out of our landfills.
Doing it Right -

 ZWS
Shop Now at Zero Waste Store
 to make your daily routine zero waste, sustainable, cruelty free, vegan and plastic free. Offering a wide range of essentials for your house, hair, body and more. Vetted products are packaged plastic free, ship carbon neutral and they donate to 1% for the planet. Every small change has a big impact so start today.

In Case You Missed It - 
The Futon Shop Empowering Organic Living with healthy, all natural, organic futons made in the USA. Futons are a fabulous way to ensure your guests get a comfortable sleep. See the wide selection of futons, mattresses, pillows and more.  

PlushBeds is committed to using certified organic and natural materials to handcraft, high-quality, eco-friendly mattresses and bedding accessories. GOTS Certified, GOLS Certified, GreenGuard Gold Certified, and CertiPur Certified are just a few of the third-party certification standards PlushBeds adheres to. USA made in California using handcrafted techniques passed down through generations ensures that each mattress has the quality, durability, and support you deserve for a superior night's sleep. PlushBeds backs this up with a 25-year warranty, 100 night risk free sleep trial, and free shipping. 

ECOS Paints - Environmentally friendly, water-based paints for your home that is non-toxic, zero VOC and hand crafted in their South Carolina plant. Exceptional coverage up to 560 sq. ft. per gallon and a transparent ingredient list make ECOS Paints the healthy home choice.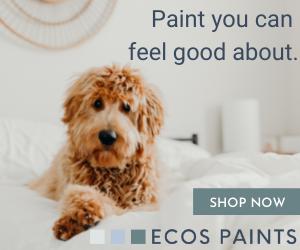 East Fork Pottery takes a stand for social equality.  Partnering with community outreach organizations to stretch outside their comfort zone; paying employees a living wage, they are now working towards increasing wages to a family living wage.  Receiving Carbon Neutral Certification and B Corporation Certification has inspired them to make even greater changes. East Fork's About Page was part of our inspiration for starting The Savvy Elephant. AND we haven't even touched on how stunning and beautiful their pottery is!  See for yourself by clicking through to the East Fork Website.  

Want More 
Leave a comment below, or drop us a line if you have a question or want us to look into a topic you think will interest The Savvy Elephant community.
The Savvy Elephant is dedicated to helping you create a happy, healthy home by sourcing heirloom quality sustainable furniture and home décor made with reduced chemicals and sustainable materials that will protect you and our planet.