Momentum is growing to stop fast fashion. Issues related to social equity; the lack of safe working conditions and low wages, throughout the world. The toll manufacturing is taking on natural resources. The rising level of pollution and the amount of waste getting added to landfills.  But fashion is not the only culprit and today we want to start a conversation around textiles in your home.
Healthy Materials Lab part of The New School Parsons has put together an incredible guide that breaks down the conversation around healthy textiles into six categories:
Health
Harmful substances are often used throughout all phases of textile production, but there are alternatives. Synthetics require chemical additives, some dyes and common finishes contain known carcinogens and endocrine inhibitors. But natural, organic materials like wool do not require these additives. Did you know organic wool is a natural fire retardant? Why doesn't furniture require a list of ingredients like the food we eat? Look for the Declare label to help you decide.
Climate
Fossil fuels are heavily relied on throughout the production of synthetic materials, but there are cleaner energy options such as wind and solar.  Polyester is petroleum based and the most common textile in the world. Demand natural fibers such as hemp and organic cotton made from regenerative farms to reduce CO2 emissions.
Water
Massive amounts of water are diverted from local communities in need to manufacturing plants and conventional farming and chemicals are contaminating local water sheds, but who is regulating this? Organic linen requires little to no water during cultivation and won't leech contaminants in our water supply. 
Circularity
Where do textiles fall in the circular economy? Moving away from synthetics towards regenerative materials and nurturing natural resources are key. Unfortunately people are replacing furniture in their homes more quickly every 3-4 years.  It does not all need to end up in the landfill. Look for companies with take back programs and materials that are upcycled, recycled, regenerative and biodegradable.
Waste
Inefficient patterns, manufacturing processes and the disposable mindset results in alarming amounts of waste. Deadstock, defined as a certain portion of a stocked item that a company is unable to sell needs to be repurposed and kept to a minimum. It may be over produced yardage that does not sell or has a slight imperfection. It may be seasonal prints or expired raw materials, but with some ingenuity an alternate use can be found rather than sending it to the landfill or incinerator. 
Social Equity
The textile industry is notorious for low wages and unhealthy work environments, but this can be flipped to uplift worker rights, and give back to communities when consumers demand accountability and transparency. Support brands that share corporate social responsibility reports (CSR). Are audit's conducted by independent third parties? Does the report share results of the entire supply chain? Are medium wages compared to local living wages?
According to Green America, "43 million tons of chemicals used in a given year of textile production are harmful to our bodies". We wear it, we sleep on it, we live in it and we can start to demand that it be healthier of us as individuals for our families and collectively for the planet.
Do you think about the materials in your furniture before making a purchase? Go to our social media pages Facebook, Instagram, Pinterest and share your story.
Thanks for reading,
Savvy
We may receive a small commission at no additional cost to you from the links below and in the post above, but we think these companies are worth sharing.
Inspiring Reads -

  
Fund literacy and protect the planet when you buy books from Certified B Corporation, Better World Books. To date Better World Books has donated over 31 million books, raised over $32 million to fund literacy programs and libraries and reused or recycled over 386 million books keeping them out of our landfills.

In Case You Missed It - 
PlushBeds is committed to using certified organic and natural materials to handcraft, high quality, eco-friendly mattresses and bedding accessories. GOTS Certified, GOLS Certified, GreenGuard Gold Certified, CertiPur Certified are just a few of the third party certification standards PlushBeds adheres to. USA made in California using handcrafted techniques passed down through generations ensures that each mattress has the quality, durability and support you deserve for a superior night sleep. PlushBeds backs this up with a 25 year warranty, 100 night risk free sleep trial and free shipping. 

ECOS Paints - Environmentally friendly, water based paints for your home that is non-toxic, zero VOC and hand crafted in their South Carolina plant. Exceptional coverage up to 560 sq. ft. per gallon and a transparent ingredient list make ECOS Paints the healthy home choice.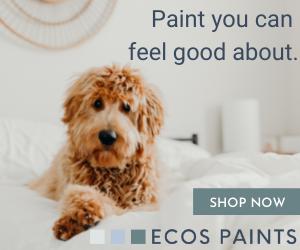 East Fork Pottery takes a stand for social equality.  Partnering with community outreach organizations to stretch outside their comfort zone; paying employees a living wage, they are now working towards increasing wages to a family living wage.  Receiving Carbon Neutral Certification and B Corporation Certification has inspired them to make even greater changes. East Fork's About Page was part of our inspiration for starting The Savvy Elephant. AND we haven't even touched on how stunning and beautiful their pottery is!  See for yourself by clicking through to the East Fork Website.  

Want More 
Leave a comment below, or drop us a line if you have a question or want us to look into a topic you think will interest The Savvy Elephant community.
The Savvy Elephant is an online marketplace bringing you the highest quality sustainable furniture and home décor. Shop responsibly with brands that support your values.