Recycling is complicated and for years the U.S. preferred to ship its waste to China rather than create sustainable closed loop systems. Recycling is also a business so if it is not profitable, no company is going to do it and that hurts everyone.
Recycling - The Good News
Natural materials lend themselves to being recyclable. Take paper as an example. The American Forest & Paper Association announced that paper recycling in the US was at 68% in 2021 up from 65.7% in 2020.  94% of U.S. residents recycle paper either curbside or using a drop off service. It is also interesting to note that the amount of paper consumption has decreased slightly over the years, but packaging materials has increased.
Glass is another material that is easy to recycle, but not all glass can be recycled.  If it is used for food and beverages it can be recycled, but specialty glass like windows have been treated and should not go in your recycle bin. Glass is made from sodium carbonate (soda ash), limestone, and sand, these are non-renewable materials so it makes sense to recycle. Better systems need to be in place for collection, sorting, processing and there needs to be more demand for the recycled glass called cullet. Cullet can replace 95% of raw materials when making glass products and furnace temperatures do not need to quite as high saving energy. Also, limestone releases CO2 so more cullet means less limestone which is good for our environment.
Recycling - The Bad News
The Plastics Industry would have us believe that recycling plastic is a success story. Short-term plastics, which includes packaging, accounts for about 40% of plastics made each year, but the U.S. only recycles about 5% of post consumer plastic. There are thousands of different types of plastic, each with its own composition, each requiring a different recycling process.
Recycling Plastic is Dangerous
Plastic is flammable and recycling plants risk fires. Some plastics have toxic additives or absorb chemicals which means they cannot be recycled for food grade packaging. Toxins released during processing can be harmful to our environment and nearby communities which tend to be low income. Recycling plastic is not economical. It simply costs less to manufacture new plastic then it does to recycle.
Sounds discouraging, but it does not have to be.  As consumers we have a voice and it is strong. Single use plastics are being made because consumers continue to purchase them, but there are alternatives. Cities are banning single use plastic bags in stores.  What if legislation better regulated the types of plastics used for specific applications such as food and beverage so that it was easier to recycle those items? What if municipalities looked for alternatives to plastic when renewing contracts? For example schools that purchase plastic chairs and tables for the classrooms, plastic trays, plates and utensils for their cafeterias.  These contracts are huge and parent associations and school boards can be influential forces for good. It's healthier for our children and our planet.
Do you recycle? What about your community? Go to our social media pages Facebook, Instagram, Pinterest and share your story.
Thanks for reading,
Savvy
We may receive a small commission at no additional cost to you from the links below and in the post above, but we think these companies are worth sharing.
Inspiring Reads -

  
Fund literacy and protect the planet when you buy books from Certified B Corporation, Better World Books. To date Better World Books has donated over 31 million books, raised over $32 million to fund literacy programs and libraries and reused or recycled over 386 million books keeping them out of our landfills.

In Case You Missed It - 
PlushBeds is committed to using certified organic and natural materials to handcraft, high quality, eco-friendly mattresses and bedding accessories. GOTS Certified, GOLS Certified, GreenGuard Gold Certified, CertiPur Certified are just a few of the third party certification standards PlushBeds adheres to. USA made in California using handcrafted techniques passed down through generations ensures that each mattress has the quality, durability and support you deserve for a superior night sleep. PlushBeds backs this up with a 25 year warranty, 100 night risk free sleep trial and free shipping. 

ECOS Paints - Environmentally friendly, water based paints for your home that is non-toxic, zero VOC and hand crafted in their South Carolina plant. Exceptional coverage up to 560 sq. ft. per gallon and a transparent ingredient list make ECOS Paints the healthy home choice.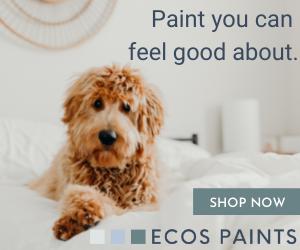 East Fork Pottery takes a stand for social equality.  Partnering with community outreach organizations to stretch outside their comfort zone; paying employees a living wage, they are now working towards increasing wages to a family living wage.  Receiving Carbon Neutral Certification and B Corporation Certification has inspired them to make even greater changes. East Fork's About Page was part of our inspiration for starting The Savvy Elephant. AND we haven't even touched on how stunning and beautiful their pottery is!  See for yourself by clicking through to the East Fork Website.  

Want More 
Leave a comment below, or drop us a line if you have a question or want us to look into a topic you think will interest The Savvy Elephant community.
The Savvy Elephant is an online marketplace bringing you the highest quality sustainable furniture and home décor. Shop responsibly with brands that support your values.