For many, local parks are often our first experience in nature. They are places to gather with friends and family, celebrate special moments, promote physical activity, healing and connect us with essential community services. Seven in 10 U.S. residents have at least one local park, playground, open space or recreation center within walking distance of their homes, but non-white and low-income neighborhoods are 50 percent less likely to have one recreational facility in their community. Many communities of color and other marginalized groups, such as LGBTQ+, immigrants, people with low income and people with disabilities, lack the opportunity to experience and engage in high-quality parks and recreation — because these resources do not exist near them, or, if they do, they are not safe, welcoming or inclusive.
For 2022 the National Recreation and Park Association, is bringing attention to how important it is to rise up and support parks and recreation, because every day, park and recreation professionals rise up for their communities in service of equity, climate-readiness, and overall health and well-being.
87 percent of people agree that parks and recreation is an important service provided by their local government.
Nearly nine in 10 people agree it is important to fund local park and recreation agencies to ensure every member of the community has equitable access to amenities, infrastructure and programming
Ninety-three percent of U.S. adults say their mental health is improved by services offered by local park and recreation professionals and agencies. 
The nation's park and recreation professionals are on the frontline in the battle against the COVID-19 pandemic, homelessness, substance use disorder, the obesity epidemic and other chronic health issues.
Local park and recreation agencies collectively manage more than 11 million acres of open space across the United States.
Local parks create essential environmental stewards advocating for and protecting our most precious public resources — our land, water, trees, open spaces and wildlife.
Parks reduce the impact of large storms and flooding by serving as sponges that soak up runoff from nearby paved surfaces during rain events. This in turn prevents flooding and decreases property damage.
Well-designed parks reduce water usage by recycling and storing this water for use during times of low precipitation.
Parks lower ground temperatures with tree canopy for healthier air and contributes to overall urban cooling.
The outdoor recreation economy, which includes local parks and recreation, accounted for $373.3 billion of 2020 U.S. Gross Domestic Product (GDP), or 1.8 percent of the U.S. economy.
92 percent of U.S. adults agree that it is important for youth and young adults to have access to employment opportunities. Park and recreation departments across the country are among the biggest employers of youth.
The more than 10,000 local park and recreation agencies across the U.S. employ more than 165,000 full-time and hundreds of thousands part-time and seasonal park and recreation professionals.
Tell us about your favorite local park. Go to our social media pages Facebook, Instagram, Pinterest and share your story.
Thanks for reading,
Savvy
We may receive a small commission at no additional cost to you from the links below and in the post above, but we think these companies are worth sharing.
Inspiring Reads -

  
Fund literacy and protect the planet when you buy books from Certified B Corporation, Better World Books. To date Better World Books has donated over 31 million books, raised over $32 million to fund literacy programs and libraries and reused or recycled over 386 million books keeping them out of our landfills.

In Case You Missed It - 
PlushBeds is committed to using certified organic and natural materials to handcraft, high quality, eco-friendly mattresses and bedding accessories. GOTS Certified, GOLS Certified, GreenGuard Gold Certified, CertiPur Certified are just a few of the third party certification standards PlushBeds adheres to. USA made in California using handcrafted techniques passed down through generations ensures that each mattress has the quality, durability and support you deserve for a superior night sleep. PlushBeds backs this up with a 25 year warranty, 100 night risk free sleep trial and free shipping. 

ECOS Paints - Environmentally friendly, water based paints for your home that is non-toxic, zero VOC and hand crafted in their South Carolina plant. Exceptional coverage up to 560 sq. ft. per gallon and a transparent ingredient list make ECOS Paints the healthy home choice.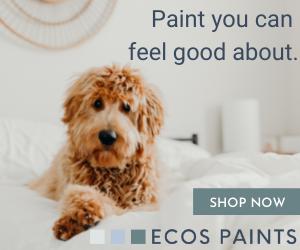 East Fork Pottery takes a stand for social equality.  Partnering with community outreach organizations to stretch outside their comfort zone; paying employees a living wage, they are now working towards increasing wages to a family living wage.  Receiving Carbon Neutral Certification and B Corporation Certification has inspired them to make even greater changes. East Fork's About Page was part of our inspiration for starting The Savvy Elephant. AND we haven't even touched on how stunning and beautiful their pottery is!  See for yourself by clicking through to the East Fork Website.  

Want More 
Leave a comment below, or drop us a line if you have a question or want us to look into a topic you think will interest The Savvy Elephant community.
The Savvy Elephant is an online marketplace bringing you the highest quality sustainable furniture and home décor. Shop responsibly with brands that support your values.