The kitchen has evolved from a utilitarian space to just cook meals to the heart of the home where we pays bills, do homework, discuss the days events, plan our futures and oh yeah cook! It is used by everyone in your home, at different times throughout the day in different ways. Architects, designers and technology are influencing what our kitchens looks like, but here we want to focus on how to keep it healthy for everyone.
Keep it Comfortable
If your kitchen is doing double duty for remote work and school make sure the lighting is adjustable and suitable for reading, the chairs and table top are ergonomic and there is an easily accessible place to charge up because not everyone is a ninja and able to jump over or under cords.
I don't have an eat in kitchen, but I made it a priority to create a small corner with a comfortable chair and side table to sit at while cooking or just hugging my coffee. It's my spot! Everyone knows it, but I'll let special people sit there so we can chit chat while I am meal prepping.
Keep it Organized
Everything has a place and there is a place for everything. I want people to be self sufficient; that includes guests, which means people need to know where things are. I don't like clutter on my counter so small appliances like the toaster and smoothie maker are grouped together in a cabinet, right next to the outlet they can plug into. Open shelves are great, baskets enable you to group things like tea bags in one place and labeled jars mean people know the difference between the salt and sugar.
Encourage your house to eat fresh fruit or chopped vegetables instead of chips and candy. We all need a snack now and then, but if the fruit is sitting in a bowl on the counter it is a quick an easy grab on the way in or out of the kitchen. Same goes for the refrigerator keep the fresh food in the front. Hide the ice cream it may be what you got up for, but you might see something else first and distract yourself.
Use Organic and Natural Materials
What are you eating on? Most dinnerware is clay heated and then glazed and you want to make sure both clay and glaze are free of lead and cadmium. Stay away from cheap imports and if it's cracked or chipped throw it out. As a renewable wood, bamboo dishware is eco-friendly and durable, but be sure the  manufacturer is not using adhesives or melamine as a binder. Switch to cloth napkins, table clothes and placemats instead of paper or plastic and make sure it is a natural fiber like organic cotton.
Stop Using Plastic
As more and more people start buying in bulk, meal prepping for the week or saving left overs, how you store things is critical. Plastic may seem like it makes sense, but it is one of the worst synthetic materials for the environment and our health. Use glass that can go from fridge to freezer to microwave. Wrap foods in bees wax paper, they are reusable and really keep things fresh. Labeling is again really helpful write down the date so you know how long you've had it.
That goes for your dish soap, sponges and dishwasher detergent. I switched over to natural, biodegradable brushes, sponges, solid soap and will never look back.  Still looking for heavy duty dishwasher detergent strips to replace the pods which are known to clog dishwashers over time so if you have a recommendation drop me a line. 
Showoff the heart of your home? Go to our social media pages Facebook, Instagram, and Pinterest, and share your story.
Thanks for reading,
Savvy
We may receive a small commission at no additional cost to you from the links below and in the post above, but we think these companies are worth sharing.
Inspiring Reads -

  
Fund literacy and protect the planet when you buy books from Certified B Corporation, Better World Books. To date, Better World Books has donated over 31 million books, raised over $32 million to fund literacy programs and libraries, and reused or recycled over 386 million books keeping them out of our landfills.
In Case You Missed It - 
PlushBeds is committed to using certified organic and natural materials to handcraft, high quality, eco-friendly mattresses and bedding accessories. GOTS Certified, GOLS Certified, GreenGuard Gold Certified, CertiPur Certified are just a few of the third party certification standards PlushBeds adheres to. USA made in California using handcrafted techniques passed down through generations ensures that each mattress has the quality, durability and support you deserve for a superior night sleep. PlushBeds backs this up with a 25 year warranty, 100 night risk free sleep trial and free shipping. 

ECOS Paints - Environmentally friendly, water based paints for your home that is non-toxic, zero VOC and hand crafted in their South Carolina plant. Exceptional coverage up to 560 sq. ft. per gallon and a transparent ingredient list make ECOS Paints the healthy home choice.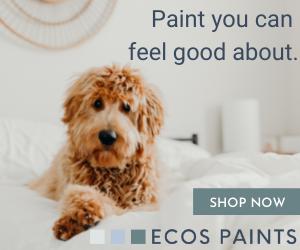 East Fork Pottery takes a stand for social equality.  Partnering with community outreach organizations to stretch outside their comfort zone; paying employees a living wage, they are now working towards increasing wages to a family living wage.  Receiving Carbon Neutral Certification and B Corporation Certification has inspired them to make even greater changes. East Fork's About Page was part of our inspiration for starting The Savvy Elephant. AND we haven't even touched on how stunning and beautiful their pottery is!  See for yourself by clicking through to the East Fork Website.  

Want More 
Leave a comment below, or drop us a line if you have a question or want us to look into a topic you think will interest The Savvy Elephant community.
The Savvy Elephant is an online marketplace bringing you heirloom quality sustainable furniture and home décor. Shop responsibly with brands that support your values.