Growing up I remember unwrapping a gift one year to find a coffee maker box. I was 10. It was confusing, but I was urged to open the box and found T-Shirts stuffed inside. Who knew my father's warped sense of humor put him ahead of his time?
It is estimated that in the US alone we will use approximately 4 million tons of gift wrap and shopping bags this holiday season. That is the equivalent of 6,000 football fields of paper and more than 30 million trees and when it is covered in glitter or glossy paper, it can't be recycled. Everyone loves to receive a beautifully and thoughtfully wrapped gift, it makes us feel special. There are a lot of unique gift-wrapping ideas that are more eco-friendly and will wow the person who receives your thoughtfully crafted wrapping and present.
Wrap a Gift in a Gift
Baskets, plant pots, napkins, and tea towels alone may not seem like much of a gift, but when you unwrap a tea towel to find wood spoons or put your homemade cookies in a beautiful basket it makes the mundane seem special.
Reuse Glass Jars
Afraid the socks you bought a friend just are not enough? Stuff them in a glass or jar that can be reused later for their favorite candy or granola.  It can also be a recycled jar but make sure it is clean and labels are removed.  Know someone that loves the beach put a couple of shells in a jar to start their collection, leaving room for them to add to it.

If it Has to Be Paper...
Use recycled paper. Wrap a gift in old maps for your adventure friend. Use pages from an old book for the bibliophile. Newspaper and magazines are also good options and Kraft paper can be dressed up with stamps or drawings. Instead of ribbon use natural twine and add a leaf.
Scroll down to our Inspiring Reads section for a beautiful book on Furoshiki which is the Japanese art of wrapping gifts with fabric
What's your favorite way to wrap a gift? Go to our social media pages Facebook, Instagram, and Pinterest, and share your story.
Thanks for reading,
Savvy
We may receive a small commission at no additional cost to you from the links below and in the post above, but we think these companies are worth sharing.
Inspiring Reads -

  
Furoshiki Fabric Wraps
By Pixeladies
The Pixeladies are sewing experts Deb Cashatt and Kris Sazaki. They show readers the centuries-old tradition of furoshiki, the Japanese art of wrapping objects in fabric for practical purposes. A beautiful and original way to present a gift, from food items to gift cards! The book is illustrated with photos of finished wraps and includes simple step-by-step instructions. Learn to make 18 different wraps for wrapping 5 main object shapes--bag, box, flat, bottle, and basket.
Fund literacy and protect the planet when you buy books from Certified B Corporation, Better World Books. To date, Better World Books has donated over 31 million books, raised over $32 million to fund literacy programs and libraries, and reused or recycled over 386 million books keeping them out of our landfills.
In Case You Missed It - 
PlushBeds is committed to using certified organic and natural materials to handcraft, high-quality, eco-friendly mattresses and bedding accessories. GOTS Certified, GOLS Certified, GreenGuard Gold Certified, and CertiPur Certified are just a few of the third-party certification standards PlushBeds adheres to. USA made in California using handcrafted techniques passed down through generations ensures that each mattress has the quality, durability, and support you deserve for a superior night's sleep. PlushBeds backs this up with a 25-year warranty, 100 night risk free sleep trial, and free shipping. 

ECOS Paints - Environmentally friendly, water-based paints for your home that is non-toxic, zero VOC and hand crafted in their South Carolina plant. Exceptional coverage up to 560 sq. ft. per gallon and a transparent ingredient list make ECOS Paints the healthy home choice.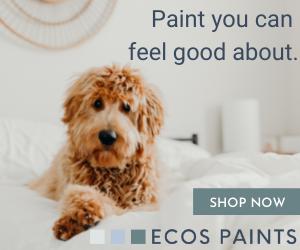 East Fork Pottery takes a stand for social equality.  Partnering with community outreach organizations to stretch outside their comfort zone; paying employees a living wage, they are now working towards increasing wages to a family living wage.  Receiving Carbon Neutral Certification and B Corporation Certification has inspired them to make even greater changes. East Fork's About Page was part of our inspiration for starting The Savvy Elephant. AND we haven't even touched on how stunning and beautiful their pottery is!  See for yourself by clicking through to the East Fork Website.  

Want More 
Leave a comment below, or drop us a line if you have a question or want us to look into a topic you think will interest The Savvy Elephant community.
The Savvy Elephant is an online marketplace bringing you heirloom quality sustainable furniture and home décor. Shop responsibly with brands that support your values.