March is Women's History Month and the 2023 theme for the National Women's History Project is "Celebrating Women Who Tell Our Stories" so we are sharing stories of some of the amazing woman owned companies making history today and available to you at The Savvy Elephant. Their unwavering dedication to provide beautiful, healthy, furniture and home décor will make your house stand out and is an inspiration to all.
Founder Anne Gogstad understands indoor air quality is important to a healthy home and yet according to the EPA indoor air quality is 3x more polluted than outdoor air.  Lacquers and glues commonly found in furniture manufacturing are contributing factors which is why Urban Woods only uses natural, solid reclaimed wood in their Los Angeles factory. Meticulously selected from local, vintage buildings slated for tear down. The old growth timber is rescued from the waste stream and repurposed for your home using only water soluble, formaldehyde free glues and finished with zero VOC, water based, non-toxic stains. 
As a breast cancer survivor, founder Rebecca Aghalarpour was determined to rid her home of toxic chemicals, and was disheartened to learn of the carcinogens in the candles she lit to help her relax, so Rebecca created a line of organic soy candles made entirely from plants and essential oils that are healthy and wholesome to burn, filling your home with a range of subtle fragrances and healing, beautiful light. Sanari are vegan, organic, candles, USA made in California, eco-friendly, environmentally conscious and sustainable.  5% of Sanari retail sales are donated to the National Breast Cancer Foundation to support the 1 out of 8 women that will be diagnosed with breast cancer. 
Holly Johnson was looking for pillows durable enough for her family and founded Cheeky Monkey in 2012 bringing joy and durability to everyone's home with impeccably handsewn, all natural merino wool applique throw pillows and accessories. Holly went on to launch Sew@Home in 2017 committed to training, mentorship and providing work for recently resettled refugees and women in need who seek flexible work. Women resettle in the United States with incredible sewing skills and creativity, eager to support themselves and their families as they start their new lives and Cheeky Monkey celebrates their talent and value.
A Fair Trade certified company founded in 2004 working with over 1400 women in 9 countries preserving their artistic heritage providing a wide range of healthy, natural, handcrafted accessories for your home.  Committed to long term artisan partnerships with meaningful and lasting impacts on families and communities.  Creative Women believes women are creative agents for change and strives for each individual to know their value and voice.  Each ethically handcrafted item tells a story of craft, culture and empowerment united with contemporary design.
It's never easy taking a stand for something you believe in. It's even harder trying to make a living from it, but the companies mentioned above and many more take a stand every day for women around the world. Providing you with beautiful, sustainable furniture and home décor to keep you, the artisans and our planet happy and healthy.
How are you celebrating the women in your life? Go to our social media pages Facebook, Instagram, Pinterest and share your story.
Thanks for reading,
Savvy
We may receive a small commission at no additional cost to you from the links below and in the post above, but we think these companies are worth sharing.
Inspiring Reads -

 
Fund literacy and protect the planet when you buy books from Certified B Corporation, Better World Books. To date, Better World Books has donated over 31 million books, raised over $32 million to fund literacy programs and libraries, and reused or recycled over 386 million books keeping them out of our landfills.
Doing it Right - 
The Futon Shop Empowering Organic Living with healthy, all natural, organic futons made in the USA. Futons are a fabulous way to ensure your guests get a comfortable sleep. See the wide selection of futons, mattresses, pillows and more.  

In Case You Missed It -

 
PlushBeds is committed to using certified organic and natural materials to handcraft, high-quality, eco-friendly mattresses and bedding accessories. GOTS Certified, GOLS Certified, GreenGuard Gold Certified, and CertiPur Certified are just a few of the third-party certification standards PlushBeds adheres to. USA made in California using handcrafted techniques passed down through generations ensures that each mattress has the quality, durability, and support you deserve for a superior night's sleep. PlushBeds backs this up with a 25-year warranty, 100 night risk free sleep trial, and free shipping. 

ECOS Paints - Environmentally friendly, water-based paints for your home that is non-toxic, zero VOC and hand crafted in their South Carolina plant. Exceptional coverage up to 560 sq. ft. per gallon and a transparent ingredient list make ECOS Paints the healthy home choice.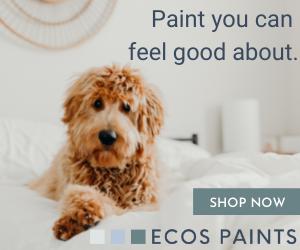 East Fork Pottery takes a stand for social equality.  Partnering with community outreach organizations to stretch outside their comfort zone; paying employees a living wage, they are now working towards increasing wages to a family living wage.  Receiving Carbon Neutral Certification and B Corporation Certification has inspired them to make even greater changes. East Fork's About Page was part of our inspiration for starting The Savvy Elephant. AND we haven't even touched on how stunning and beautiful their pottery is!  See for yourself by clicking through to the East Fork Website.  

Want More 
Leave a comment below, or drop us a line if you have a question or want us to look into a topic you think will interest The Savvy Elephant community.
The Savvy Elephant is dedicated to helping you create a happy, healthy home by sourcing heirloom quality sustainable furniture and home décor made with reduced chemicals and sustainable materials that will protect you and our planet.