Pura Vida, translating into Pure Life is a well know saying in the Guanacaste Region of Costa Rica. To live in peace and respect nature has made Costa Rica one of the top destinations for ecotourism with protected cloud forests, rainforests, wetlands and coastal marine areas. Costa Rica welcomes nearly 3 million tourists every year, generating about $4 billion in revenue which equates to roughly 8% GDP. 
The biodiversity provides endless opportunities for every kind of adventure and The Savvy Elephant Co-Founder Lori Falk, ASID, CID recently took a trip to Costa Rica to explore. She returned ready to visit again; speaking fondly of the people she met, remembering their generosity when sharing stories about their culture and their pride in protecting the delicate eco-balance they call home. 
"Costa Rica's natural beauty is breathtaking and knowing they are managing tourism to preserve the countries natural beauty means it will be there for generations to come. "
 Cortez Waterfall
 Panamania White-Faced Monkey in Guanacaste conservation Area
Tenorio National Park
History
In 1996 after decades of cutting down trees, destroying their land the Costa Rican government declared it illegal to cut down the forest without prior approval and in 1997 it introduced PES to pay farmers to protect watersheds, conserve biodiversity or capture carbon dioxide.
Today
About 60% is forest again with roughly 1,300 hectares protected National Parks and Reserves.
Clean Rivers Initiative
To honor World Water Day this year Costa Rica is committing resources to improve water quality. Programs to restore rivers through reforestation and sanitary sewage works will involve installing barriers to capture solid waste in riverbeds and tools to monitor protected areas.
Planning a trip? Be sure to log into FONOFIFO and use their calculator to offset your carbon footprint. 
Go to our social media pages Facebook, Instagram, Pinterest and share your story and favorite photos.
Thanks for reading,
Savvy
We may receive a small commission at no additional cost to you from the links below and in the post above, but we think these companies are worth sharing.
Inspiring Reads -

  
Fund literacy and protect the planet when you buy books from Certified B Corporation, Better World Books. To date Better World Books has donated over 31 million books, raised over $32 million to fund literacy programs and libraries and reused or recycled over 386 million books keeping them out of our landfills.

In Case You Missed It - 
PlushBeds is committed to using certified organic and natural materials to handcraft, high quality, eco-friendly mattresses and bedding accessories. GOTS Certified, GOLS Certified, GreenGuard Gold Certified, CertiPur Certified are just a few of the third party certification standards PlushBeds adheres to. USA made in California using handcrafted techniques passed down through generations ensures that each mattress has the quality, durability and support you deserve for a superior night sleep. PlushBeds backs this up with a 25 year warranty, 100 night risk free sleep trial and free shipping. 

ECOS Paints - Environmentally friendly, water based paints for your home that is non-toxic, zero VOC and hand crafted in their South Carolina plant. Exceptional coverage up to 560 sq. ft. per gallon and a transparent ingredient list make ECOS Paints the healthy home choice.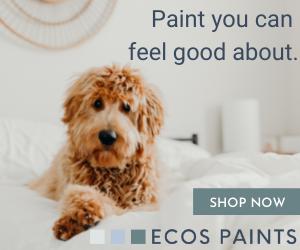 East Fork Pottery takes a stand for social equality.  Partnering with community outreach organizations to stretch outside their comfort zone; paying employees a living wage, they are now working towards increasing wages to a family living wage.  Receiving Carbon Neutral Certification and B Corporation Certification has inspired them to make even greater changes. East Fork's About Page was part of our inspiration for starting The Savvy Elephant. AND we haven't even touched on how stunning and beautiful their pottery is!  See for yourself by clicking through to the East Fork Website.  

Want More 
Leave a comment below, or drop us a line if you have a question or want us to look into a topic you think will interest The Savvy Elephant community.
The Savvy Elephant is an online marketplace bringing you the highest quality sustainable furniture and home décor. Shop responsibly with brands that support your values. Subscribe to be the first to know about new products and specials.