Last month we kicked off our ongoing travel series inspired by the idea of slow travel. As we head into May and start to plan summer vacations I wanted to share ideas on sustainable travel; sometimes called ecotourism, green travel or ethical travel.
Pre Covid tourism was approximately 10% of the global GDP and a large economic boost for job creation throughout the world.  The increase in travel shows, blogs and social media posts meant more people were traveling the world looking for the perfect vacation spot, but all that comes at a cost. 
What is Responsible Tourism
Basically it is acknowledging that travel has an impact, often negative on the environment, historical sights and local resources of the host community and this needs to be taken into consideration. Cities like Barcelona and Venice have had to rethink the overcrowding that occurs when multiple cruise ships are in port at the same time and they are not alone. In response, the tourism industry has seen some itineraries shift to be more mindful of their impact, but we can do more.
What is Ecotourism
The International Ecotourism Society defines ecotourism as "responsible travel to natural areas that conserves the environment, sustains the well-being of the local people, and involves interpretation and education", but what does this look like in practice?
How to Travel Responsibly
It starts with each individual and it starts in the planning stage. Where do you want to go? Where do you want to stay? How are you getting there? How are you traveling once you get there? Where are you eating? What are you buying? and most importantly what are you leaving behind?
Live Like a local
We have been conditioned to seek out what we know and use what we have a loyalty card with, but isn't the whole point of traveling to try something new? Seek out locally-run accommodations, homestays or immersive tours for genuine cultural exchanges. This helps ensure the money you spend stays in the local community.
Shop Local Artisans
Want to bring home more than memories, shop local artisans. This is another amazing way to learn about heritage crafts, passed down through generations and helps keeps money in the local community. You will walk away with more than just a gift, but also a story and maybe even a friend.
Preserve Local EcoSystems
Be careful where you walk, leave areas as beautiful for the next person as it was for you. This means not taking natures finest seashells and be especially vigilant about single use plastic and spraying chemicals such as sun or bug spray.
Respect Local Customs
Just like being invited to a neighbors for dinner, respect your host community and their customs and traditions. After all that's why you chose to travel there in the first place.
Share a story about your favorite travel experience. Go to our social media pages Facebook, Instagram, Pinterest and share your story.
Thanks for reading,
Savvy
We may receive a small commission at no additional cost to you from the links below and in the post above, but we think these companies are worth sharing.
Inspiring Reads -

  
Fund literacy and protect the planet when you buy books from Certified B Corporation, Better World Books. To date Better World Books has donated over 31 million books, raised over $32 million to fund literacy programs and libraries and reused or recycled over 386 million books keeping them out of our landfills.

In Case You Missed It - 
PlushBeds is committed to using certified organic and natural materials to handcraft, high quality, eco-friendly mattresses and bedding accessories. GOTS Certified, GOLS Certified, GreenGuard Gold Certified, CertiPur Certified are just a few of the third party certification standards PlushBeds adheres to. USA made in California using handcrafted techniques passed down through generations ensures that each mattress has the quality, durability and support you deserve for a superior night sleep. PlushBeds backs this up with a 25 year warranty, 100 night risk free sleep trial and free shipping. 

ECOS Paints - Environmentally friendly, water based paints for your home that is non-toxic, zero VOC and hand crafted in their South Carolina plant. Exceptional coverage up to 560 sq. ft. per gallon and a transparent ingredient list make ECOS Paints the healthy home choice.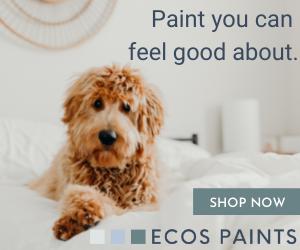 East Fork Pottery takes a stand for social equality.  Partnering with community outreach organizations to stretch outside their comfort zone; paying employees a living wage, they are now working towards increasing wages to a family living wage.  Receiving Carbon Neutral Certification and B Corporation Certification has inspired them to make even greater changes. East Fork's About Page was part of our inspiration for starting The Savvy Elephant. AND we haven't even touched on how stunning and beautiful their pottery is!  See for yourself by clicking through to the East Fork Website.  

Want More 
Leave a comment below, or drop us a line if you have a question or want us to look into a topic you think will interest The Savvy Elephant community.
The Savvy Elephant is an online marketplace bringing you the highest quality sustainable furniture and home décor. Shop responsibly with brands that support your values.