Air surrounds us, is necessary to live and knows no boundaries. May is Clean Air Month and we look at the history of air.
Smithsonian Magazine published an interesting article back in 2010 The History of Air by Riley Black that looked at air 300 million years and how species evolved, some becoming extinct, some adapting as the climate changed. As I read the article I couldn't help but think about humans as just one of a long line of evolving species inhabiting the planet Earth. We think of it as our world, but is it?
The UN calls Air pollution the world's worst environmental health risk.  8.9 million people will die this year from poor air quality and if you think that is alarming consider that indoor air quality is often worse than the immediate outdoor air quality.  According to The World Counts, 3.8 million annual deaths will occur from indoor air pollution:
27% pneumonia
18% stroke
27% ischaemic heart disease
20% chronic obstructive pulmonary disease
8% lung cancer.
Indoor cooking is often the cause in lesser developed nations, but there are many "Modern" causes of indoor air pollution such as chemicals seeping out of building materials, furniture, office equipment etc. Up to 350 toxic chemicals are off gassing from our products and we typically spend 90% of our time indoors.
Air pollution may seem like an overwhelming obstacle that we as individuals have no control over, but continuing to exert pressure on large corporations and politicians will result in change. In the meantime, reduce the amount of chemicals in your home to improve your personal indoor air quality.
Use green cleaning supplies
Keep the windows open
Replace old appliances
Buy furniture made with natural finishes
Start an indoor garden
How do you reduce the chemicals in your home? Go to our social media pages Facebook, Instagram, Pinterest and share your story.
Thanks for reading,
Savvy
We may receive a small commission at no additional cost to you from the links below and in the post above, but we think these companies are worth sharing.
Inspiring Reads -

  
Fund literacy and protect the planet when you buy books from Certified B Corporation, Better World Books. To date Better World Books has donated over 31 million books, raised over $32 million to fund literacy programs and libraries and reused or recycled over 386 million books keeping them out of our landfills.

In Case You Missed It - 
PlushBeds is committed to using certified organic and natural materials to handcraft, high quality, eco-friendly mattresses and bedding accessories. GOTS Certified, GOLS Certified, GreenGuard Gold Certified, CertiPur Certified are just a few of the third party certification standards PlushBeds adheres to. USA made in California using handcrafted techniques passed down through generations ensures that each mattress has the quality, durability and support you deserve for a superior night sleep. PlushBeds backs this up with a 25 year warranty, 100 night risk free sleep trial and free shipping. 

ECOS Paints - Environmentally friendly, water based paints for your home that is non-toxic, zero VOC and hand crafted in their South Carolina plant. Exceptional coverage up to 560 sq. ft. per gallon and a transparent ingredient list make ECOS Paints the healthy home choice.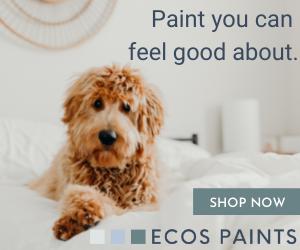 East Fork Pottery takes a stand for social equality.  Partnering with community outreach organizations to stretch outside their comfort zone; paying employees a living wage, they are now working towards increasing wages to a family living wage.  Receiving Carbon Neutral Certification and B Corporation Certification has inspired them to make even greater changes. East Fork's About Page was part of our inspiration for starting The Savvy Elephant. AND we haven't even touched on how stunning and beautiful their pottery is!  See for yourself by clicking through to the East Fork Website.  

Want More 
Leave a comment below, or drop us a line if you have a question or want us to look into a topic you think will interest The Savvy Elephant community.
The Savvy Elephant is an online marketplace bringing you the highest quality sustainable furniture and home décor. Shop responsibly with brands that support your values.