Earth Day is April 22nd and we are celebrating all month long by highlighting different ways to love our planet.  Travel has always been a huge part of my life and living abroad for college changed my life. Backpacking allowed me to visit many countries and camping was a way to meet locals on their own family adventures. Learning about their favorite must see's rather than relying on a guide book gave me a much different outlook.  As I get older I may prefer some creature comforts such as a bed and running water, but I still seek out smaller towns and local eateries rather than the top 5 must see's.  Who knew this is growing trend called Slow Travel.
What is Slow Travel
Slow travel is about pacing yourself, staying a while, getting to know an area, but most importantly getting to know the people and immersing yourself in local customs and traditions.  Slow travel is about sharing experiences with locals and one of the best ways to do that is through food.  In fact, the term slow travel was born out of the slow food movement which started in protest against fast food.
Benefits of Slow Travel
Slow travel is sustainable travel because you are not traveling large distances throughout your trip. Stay in a city and walk different neighborhoods, shop local small businesses, pop into a local coffee shop. Take a bike tour and travel outside the hustle and bustle of major cities to explore the rolling hills and valleys.
Slow travel is getting outside your comfort zone. Try something new, you may love it (Or not), but you will never forget it.
Slow travel can be more affordable. Try to get a better rate for a longer stay or find a local host.
Slow travel is about making connections, take a cooking class, learn a craft, eat in a restaurant where you have to point because you can't read the menu or shop a local market and cook something.  These are the stories that you come home with, share with your friends, remember for years afterwards and inspires your next trip.
Slow Travel Destinations
Any destination can be a slow travel destination. Slow travel is an ethos. Don't over schedule your trip. Set yourself free, give yourself space for the unexpected and take the path less traveled. Scroll down to our Inspiring Reads section for our favorite books to spark your next slow travel trip. 
Share a story about your slow travel experience. Go to our social media pages Facebook, Instagram, Pinterest and share your story.
Thanks for reading,
Savvy
We may receive a small commission at no additional cost to you from the links below and in the post above, but we think these companies are worth sharing.
Inspiring Reads -

  
Fund literacy and protect the planet when you buy books from Certified B Corporation, Better World Books. To date Better World Books has donated over 31 million books, raised over $32 million to fund literacy programs and libraries and reused or recycled over 386 million books keeping them out of our landfills.
Doing It Right - 
Since 2008 PlushBeds has committed to using certified organic and natural materials to handcraft, high quality, eco-friendly mattresses and bedding accessories. GOTS Certified, GOLS Certified, GreenGuard Gold Certified, CertiPur Certified are just a few of the third party certification standards PlushBeds adheres to. USA made in California using handcrafted techniques passed down through generations ensures that each mattress has the quality, durability and support you deserve for a superior night sleep. PlushBeds backs this up with a 25 year warranty, 100 night risk free sleep trial and free shipping.  We spend a third of our lives in bed so keep the chemicals out.
In Case You Missed It - 
ECOS Paints - Environmentally friendly, water based paints for your home that is non-toxic, zero VOC and hand crafted in their South Carolina plant. Exceptional coverage up to 560 sq. ft. per gallon and a transparent ingredient list make ECOS Paints the healthy home choice.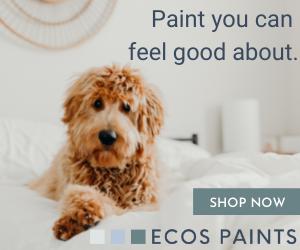 East Fork Pottery takes a stand for social equality.  Partnering with community outreach organizations to stretch outside their comfort zone; paying employees a living wage, they are now working towards increasing wages to a family living wage.  Receiving Carbon Neutral Certification and B Corporation Certification has inspired them to make even greater changes. East Fork's About Page was part of our inspiration for starting The Savvy Elephant. AND we haven't even touched on how stunning and beautiful their pottery is!  See for yourself by clicking through to the East Fork Website.  

Want More 
Leave a comment below, or drop us a line if you have a question or want us to look into a topic you think will interest The Savvy Elephant community.