Earth Day is April 22nd and we are celebrating all month long by highlighting different ways to love our planet. Many of us take the air we breath for granted, unfortunately environmental factors and even our next door neighbors can affect how clean the air is around us. Indoor plants have health benefits you should not ignore.  A Nasa study in 1989 showed several indoor plant species reduce harmful chemicals for cleaner indoor air.  Additional studies show it's a slow process, but every bit helps.
Indoor Plants Help Reduce These Common Chemicals
We are exposed to a wide variety of chemicals on a daily basis, but indoor plants have been shown to reduce levels of the following: 
Benzene - Naturally occurring in volcanoes and forest fires, also a natural part of crude oil, gasoline and cigarette smoke. Benzene is sometimes used to make other chemicals, then used to make plastics, resins and nylon or synthetic fibers found in everyday products.  
Formaldehyde - Common in building materials, furniture and paper products.
Toluene - Used in many industries and can be found in paints, dyes, solvents, fingernail polish and gasoline.
Carbon Monoxide - Gas stoves and heating systems release low levels of carbon monoxide. Check your carbon monoxide detector annually.
Easy Indoor Plants for Clean Air
Many plants are easy to care for, but research if they are suitable for where and how you live, because different species have different needs. Water, soil drainage and amount of sun are important considerations to keep your plants healthy. Also, ensure you are not bringing plants into the home that might be toxic for small children or animals. Do a little research up front and it will be enjoyable to watch your plants flourish as a fun family project. Shop our Garden Collection for these easy care, clean air, healthy indoor plants.
Show us your green thumb by posting a picture of your favorite garden!  
 Go to our social media pages Facebook, Instagram, Pinterest and share.
Thanks for reading,
Savvy
We may receive a small commission at no additional cost to you from the links below and in the post above, but we think these companies are worth sharing.
Inspiring Reads -

 
Fund literacy programs and protect the planet when you buy books from Certified B Corporation, Better World Books. Here are few that will help you style and care for your indoor garden oasis.
Doing It Right - 
Since 2008 PlushBeds has committed to using certified organic and natural materials to handcraft, high quality, eco-friendly mattresses and bedding accessories. GOTS Certified, GOLS Certified, GreenGuard Gold Certified, CertiPur Certified are just a few of the third party certification standards PlushBeds adheres to. USA made in California using handcrafted techniques passed down through generations ensures that each mattress has the quality, durability and support you deserve for a superior night sleep. PlushBeds backs this up with a 25 year warranty, 100 night risk free sleep trial and free shipping.  We spend a third of our lives in bed so keep the chemicals out.

In Case You Missed It - 
ECOS Paints - Environmentally friendly, water based paints for your home that are non-toxic, zero VOC and hand crafted in their South Carolina plant. Exceptional coverage up to 560 sq. ft. per gallon and a transparent ingredient list make ECOS Paints the healthy home choice.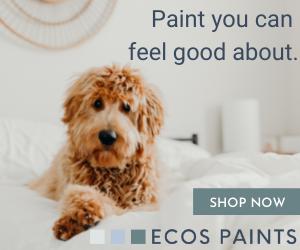 East Fork Pottery takes a stand for social equality.  Partnering with community outreach organizations to stretch outside their comfort zone; paying employees a living wage, they are now working towards increasing wages to a family living wage.  Receiving Carbon Neutral Certification and B Corporation Certification has inspired them to make even greater changes. East Fork's About Page was part of our inspiration for starting The Savvy Elephant. AND we haven't even touched on how stunning and beautiful their pottery is!  See for yourself by clicking through to the East Fork Website.  

Want More 
Leave a comment below, or drop us a line if you have a question or want us to look into a topic you think will interest The Savvy Elephant community.