Earth Day was April 22nd and to wrap up the month we have an exciting announcement, but first let's re-examine carbon emissions, offsets and social responsibility.  
Carbon part one defines carbon emissions revealing how the term carbon footprint was an attempt to manipulate the public and shift responsibility away from big industries. Carbon part two touches on the business of carbon offsets and the complexities related to reforestation and other offset programs.  The next layer is social responsibility with terms Carbon Neutral, Carbon Negative and Climate Positive becoming important terms to watch for.
What is Carbon Neutral
Carbon neutral is defined as having no net addition of carbon dioxide into the atmosphere and is often achieved with carbon offsets that counter balance emissions. No simple task. First, it requires understanding what your carbon emissions are; the carbon footprint of each product, the energy required to produce that specific product, to distribute it, all the emissions associated with the materials sourced for it, and emissions associated with the basic running of the business. Then, finding a legitimate program to purchase carbon credits and ongoing audits for carbon offset certificates.  
Carbon Negative and Climate Positive
Carbon negative and climate positive are similar, going beyond achieving net zero carbon emissions, by removing additional carbon dioxide from the atmosphere.  Some companies factor into their carbon footprint the customer's carbon emissions and offset that to be climate positive.
The World Counts
Carbon emissions continue to go up and with it global temperatures and sea levels. Here are some staggering numbers reported by The World Counts.
Carbon is everyone's responsibility and being an online marketplace means we have to ship products to you.  The brands we sell are transparent in the steps they take to be sustainable and go above and beyond to ensure their packaging is plastic free or recycled materials so we decided to take responsibility for the effects of shipping these products to you. The Savvy Elephant has partnered with EcoCart to offset the estimated shipping carbon footprint of each and every order placed on our website at no additional cost to you. Donations are made to third party verified projects committed to reforestation, clean water and alternative energy sources. To date EcoCart has offset 25,870,932 lbs of CO2 and saved 848,214 trees. The project and positive impact of our donation will be shared with each customer at checkout and as we hit important milestones we will share that with our entire community. 
How are you celebrating Earth Month? Go to our social media pages Facebook, Instagram, Pinterest and share your story.
Thanks for reading,
Savvy
We may receive a small commission at no additional cost to you from the links below and in the post above, but we think these companies are worth sharing.
Inspiring Reads -  
Fund literacy and protect the planet when you buy books from Certified B Corporation, Better World Books. To date Better World Books has donated over 31 million books, raised over $32 million to fund literacy programs and libraries and reused or recycled over 386 million books keeping them out of our landfills.
Doing It Right -

 
Since 2008 PlushBeds has committed to using certified organic and natural materials to handcraft, high quality, eco-friendly mattresses and bedding accessories. GOTS Certified, GOLS Certified, GreenGuard Gold Certified, CertiPur Certified are just a few of the third party certification standards PlushBeds adheres to. USA made in California using handcrafted techniques passed down through generations ensures that each mattress has the quality, durability and support you deserve for a superior night sleep. PlushBeds backs this up with a 25 year warranty, 100 night risk free sleep trial and free shipping.  We spend a third of our lives in bed so keep the chemicals out.

In Case You Missed It - 
ECOS Paints - Environmentally friendly, water based paints for your home that are non-toxic, zero VOC and hand crafted in their South Carolina plant. Exceptional coverage up to 560 sq. ft. per gallon and a transparent ingredient list make ECOS Paints the healthy home choice.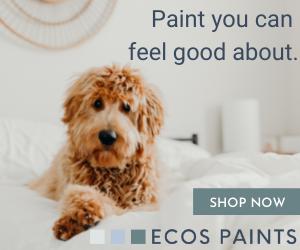 East Fork Pottery takes a stand for social equality.  Partnering with community outreach organizations to stretch outside their comfort zone; paying employees a living wage, they are now working towards increasing wages to a family living wage.  Receiving Carbon Neutral Certification and B Corporation Certification has inspired them to make even greater changes. East Fork's About Page was part of our inspiration for starting The Savvy Elephant. AND we haven't even touched on how stunning and beautiful their pottery is!  See for yourself by clicking through to the East Fork Website.  

Want More 
Leave a comment below, or drop us a line if you have a question or want us to look into a topic you think will interest The Savvy Elephant community.
The Savvy Elephant is an online marketplace bringing you the highest quality sustainable furniture and home décor. Shop responsibly with brands that support your values.