Earth Day was April 22nd, but how can you improve your interiors? It is well-documented that the average person spends 90% of their time indoors, both at home and work. So let's discover ways to celebrate Earth Day every day, by incorporating natural elements into our spaces even on a budget.
 Plants are a great way to bring nature into any space. Live plants provide added benefits by nurturing them as they filter your air. If that sounds like too much work, high quality artificial options will bring a smile to your face. Wishing you could have a living wall in your home, but don't have the space? Layer plants with a floor pot, table top or shelf and hanging baskets.
Natural sunlight feels great on your skin. Protect yourself from glare with UV window shades or sheers for soft filtered light that won't hurt your eyes. No windows in sight, add a desk lamp to mimic the warm glow of natural day light. Light therapy lamps are especially useful as the days get shorter.      
Sounds
 of nature reduce stress. Tired of listening to your co-workers weekend escapades? Find your favorite playlist or white noise device for calming sounds of surf, birds or other nature sounds.
Think tactile. Touch is important so look for natural fibers for area rugs, throw pillows, drapery, placemats and napkins to add texture to your home. 
Water is an essential natural element. Can't afford to renovate for a spa like bathroom? Use soothing blues on walls and fabrics. Still feeling blue? Fish tanks or aquarium screen savers work too.
Nature is full of color, neutrals found in sand dunes and stones, reds and oranges of your favorite sunset or fall foliage, blues reminding you of a weekend at the lake and greens of your favorite hiking trail. Color your home to recreate your favorite warm or cool palette. 
Nature evolves. Choose finishes that age with beauty such as a coppers patina, aged brick, worn leather or wood banisters darkened by years human hands sliding down it.
We don't all have fireplaces in our homes, but an arrangement of candles can be the next best thing.  Worried about open flames? Battery operated candles come in all shapes and sizes. 
Nature isn't perfect and you don't need to be either.  Mis-match furniture, pick a common element and have fun.
Look for organic shapes, patterns and details found throughout nature and introduce some in your home.  Don't like too much pattern? Keep colors neutral to offset.
Repurpose a material or item. Tables made of reclaimed wood or hang grandma's old rolling pin on the wall to warm up your kitchen. 
Think about your favorite childhood memory, trip or someplace still on your bucket list and add elements to your home to transport you. Stuck for ideas, leave a comment below or email us and we can help you create a corner of nature in your home.
How did you celebrate Earth Day?  Go to our social media pages Facebook, Instagram, Pinterest and share your story.
Thanks for reading,
Savvy
We may receive a small commission at no additional cost to you from the links below and in the post above, but we think these companies are worth sharing.
Inspiring Reads -

 
Fund literacy and protect the planet when you buy books from Certified B Corporation, Better World Books. To date, Better World Books has donated over 31 million books, raised over $32 million to fund literacy programs and libraries, and reused or recycled over 386 million books keeping them out of our landfills.
Doing it Right - 
The Futon Shop Empowering Organic Living with healthy, all natural, organic futons made in the USA. Futons are a fabulous way to ensure your guests get a comfortable sleep. See the wide selection of futons, mattresses, pillows and more.  

In Case You Missed It - 
PlushBeds is committed to using certified organic and natural materials to handcraft, high-quality, eco-friendly mattresses and bedding accessories. GOTS Certified, GOLS Certified, GreenGuard Gold Certified, and CertiPur Certified are just a few of the third-party certification standards PlushBeds adheres to. USA made in California using handcrafted techniques passed down through generations ensures that each mattress has the quality, durability, and support you deserve for a superior night's sleep. PlushBeds backs this up with a 25-year warranty, 100 night risk free sleep trial, and free shipping. 

ECOS Paints - Environmentally friendly, water-based paints for your home that is non-toxic, zero VOC and hand crafted in their South Carolina plant. Exceptional coverage up to 560 sq. ft. per gallon and a transparent ingredient list make ECOS Paints the healthy home choice.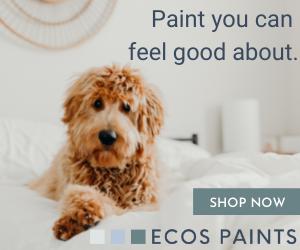 East Fork Pottery takes a stand for social equality.  Partnering with community outreach organizations to stretch outside their comfort zone; paying employees a living wage, they are now working towards increasing wages to a family living wage.  Receiving Carbon Neutral Certification and B Corporation Certification has inspired them to make even greater changes. East Fork's About Page was part of our inspiration for starting The Savvy Elephant. AND we haven't even touched on how stunning and beautiful their pottery is!  See for yourself by clicking through to the East Fork Website.  

Want More 
Leave a comment below, or drop us a line if you have a question or want us to look into a topic you think will interest The Savvy Elephant community.
The Savvy Elephant is dedicated to helping you create a happy, healthy home by sourcing heirloom quality sustainable furniture and home décor made with reduced chemicals and sustainable materials that will protect you and our planet.