In many cities over-tourism due to the robust cruise industry has sparked debates and controversial measures. The devastating effects of thousands of tourists visiting heritage sites over a couple of hours without staying in local hotels or eating in local restaurants is outweighing the economics city tourist boards envisioned.
Venice is banning cruise ships from entering the Giudecca Canal due to water, air and noise pollution destroying the heritage of the canal and city. Mallorca,  Dubrovnik, Santorini, Dublin and Bruges have capped the number of ships into their harbors and Barcelona took it one step further adding a cruise tax. Reducing the number of people is an important factor, but the pollution the ships generate also has to be addressed.
Cruise ships use heavy crude oil containing 2,000 times more sulphur oxide than ordinary diesel used by cars. In 2017 cruise ships in Barcelona emitted 32.8 tonnes of sulphur oxide (SOx). Part of the issue is the ships keep running while sitting at port and there is growing support to electrify docks to reduce air pollution. 2025 is the target date for the Barcelona power grid to be able to accommodate this load and the result could reduce NOx by 10%. It's a start, but what about the water pollution and marine life at risk from cruise ships.
Closer to home the popular Alaska cruises dump their waste along the Canadian coastline. In one year approximately 8.5 billion gallons of pollution are discharged. Toxic sewage from toilets, grey water from sinks, showers and laundry, bilge water that is an oily build up and acidic waste water from scrubbers removing exhaust gases are dumped into the Canadian waters because they have lighter regulation than the United States. For example the coast of Washington state is protected and a no-discharge zone so ships hold their waste and then discharge when they reach Canada.
 All this waste is dangerous to marine life and ocean ecosystems regardless of where it is dumped and the noise and vibration from ships in the water endangers natural habitats. Seattle Cruise Control monitors port activities in Seattle and attended Port of Seattle meetings along with many others fighting for a healthy planet, demanding the cruise industry be held accountable to the negative impact they have on port cities due to the enormous amount of air and water pollution they generate.  The passion and commitment of Seattle Cruise Control, many activists and concerned citizens resulted in the Port of Seattle cancelling plans to build a third port T46.  Read some statements recapped here by Activist, Andrea O'Ferrall and if you have any thoughts on joining a protest in the future read about this emotional sit in at Pier 66.
Is the cruise industry going to go away? I don't think so, but with increased regulation and consumers demanding change improvements can be made. It is not enough to reduce single use plastic on the ship or suggest housekeeping once a day instead of twice like some ships are offering, and it is not enough to just buy carbon offsets. The number and sizes of ships can be reduced. Ships can run on cleaner fuel, toxic dumping can be banned and enforced, staff wages can be increased and working hours can be reduced. 
Tell us about a protest you participated in. Go to our social media pages Facebook, Instagram, Pinterest, and share your story.
Thanks for reading,
Savvy
We may receive a small commission at no additional cost to you from the links below and in the post above, but we think these companies are worth sharing.
Inspiring Reads - 

 
Fund literacy and protect the planet when you buy books from Certified B Corporation, Better World Books. To date Better World Books has donated over 31 million books, raised over $32 million to fund literacy programs and libraries and reused or recycled over 386 million books keeping them out of our landfills.

In Case You Missed It - 
PlushBeds is committed to using certified organic and natural materials to handcraft, high quality, eco-friendly mattresses and bedding accessories. GOTS Certified, GOLS Certified, GreenGuard Gold Certified, CertiPur Certified are just a few of the third party certification standards PlushBeds adheres to. USA made in California using handcrafted techniques passed down through generations ensures that each mattress has the quality, durability and support you deserve for a superior night sleep. PlushBeds backs this up with a 25 year warranty, 100 night risk free sleep trial and free shipping. 

ECOS Paints - Environmentally friendly, water based paints for your home that is non-toxic, zero VOC and hand crafted in their South Carolina plant. Exceptional coverage up to 560 sq. ft. per gallon and a transparent ingredient list make ECOS Paints the healthy home choice.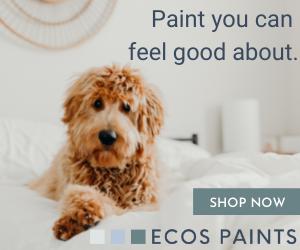 East Fork Pottery takes a stand for social equality.  Partnering with community outreach organizations to stretch outside their comfort zone; paying employees a living wage, they are now working towards increasing wages to a family living wage.  Receiving Carbon Neutral Certification and B Corporation Certification has inspired them to make even greater changes. East Fork's About Page was part of our inspiration for starting The Savvy Elephant. AND we haven't even touched on how stunning and beautiful their pottery is!  See for yourself by clicking through to the East Fork Website.  

Want More 
Leave a comment below, or drop us a line if you have a question or want us to look into a topic you think will interest The Savvy Elephant community.
The Savvy Elephant is an online marketplace bringing you the highest quality sustainable furniture and home décor. Shop responsibly with brands that support your values.