Fall is all around us and that means the holidays are quickly approaching. As you get your house "Guest ready" some of that old familiar anxiety may be creeping up on you. We look forward to it all year long, but the thought of in-laws and plus one's staying over begs the question; where are we going to put them all? Last week we shared tips on creating a comfortable sleeping area and bathroom. This week we identify best practices to give you and your guests some peace.
Personal Space
I have friends that walk into my home and within a minute every surface has something of theirs on it and I have friends you may never know are staying with me.
Decluttering is important in every area. Leave some empty hangers in a closet, clean out a drawer, empty a shelf, and show them you made space for them to use, and hopefully, they will keep their dirty nickers off the living room floor.
That goes for the refrigerator and liquor cabinet too. Clean it out and if something is off-limits hide it.
A storage bench is great for hiding extra bedding between guests and then guests can use it while it's empty.
Folding tables or luggage racks are also helpful in tight spaces.
Do Not Disturb signs are always a fun way to create boundaries. Place it on a cabinet you want guests to stay out of or give it to them to use.
Independence
Create a
welcome basket
with your WIFI information, alarm code, extra set of keys, local map and guide, transportation options, and directions to your local pharmacy, movie theater, or park.
If your guests are morning people, keep the coffee essentials out for them. Leave a clean plate, glass, utensils, and napkins in plain sight for their midnight snack.
A nightlight in the hallway or bathroom will help avoid accidents.
Put a post-it on it. You may know that using the toaster and microwave at the same time will blow the fuse, but do your guests? Post it creates friendly reminders for light switches also.
And last but not least, keep it fun.  Preparation reduces uncomfortable moments, but expect the unexpected and roll with it.
Have an embarrassing story from when you were a guest in someone's home? Go to our social media pages Facebook, Instagram, and Pinterest, and share your story.
Thanks for reading,
Savvy
We may receive a small commission at no additional cost to you from the links below and in the post above, but we think these companies are worth sharing.
Inspiring Reads -

  
Fund literacy and protect the planet when you buy books from Certified B Corporation, Better World Books. To date, Better World Books has donated over 31 million books, raised over $32 million to fund literacy programs and libraries, and reused or recycled over 386 million books keeping them out of our landfills.

In Case You Missed It - 
PlushBeds is committed to using certified organic and natural materials to handcraft, high quality, eco-friendly mattresses and bedding accessories. GOTS Certified, GOLS Certified, GreenGuard Gold Certified, CertiPur Certified are just a few of the third party certification standards PlushBeds adheres to. USA made in California using handcrafted techniques passed down through generations ensures that each mattress has the quality, durability and support you deserve for a superior night sleep. PlushBeds backs this up with a 25 year warranty, 100 night risk free sleep trial and free shipping. 

ECOS Paints - Environmentally friendly, water based paints for your home that is non-toxic, zero VOC and hand crafted in their South Carolina plant. Exceptional coverage up to 560 sq. ft. per gallon and a transparent ingredient list make ECOS Paints the healthy home choice.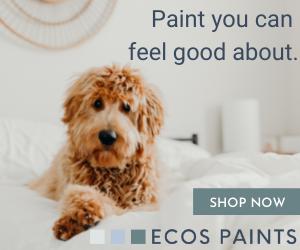 East Fork Pottery takes a stand for social equality.  Partnering with community outreach organizations to stretch outside their comfort zone; paying employees a living wage, they are now working towards increasing wages to a family living wage.  Receiving Carbon Neutral Certification and B Corporation Certification has inspired them to make even greater changes. East Fork's About Page was part of our inspiration for starting The Savvy Elephant. AND we haven't even touched on how stunning and beautiful their pottery is!  See for yourself by clicking through to the East Fork Website.  

Want More 
Leave a comment below, or drop us a line if you have a question or want us to look into a topic you think will interest The Savvy Elephant community.
The Savvy Elephant is an online marketplace bringing you the heirloom quality sustainable furniture and home décor. Shop responsibly with brands that support your values.