You want your guest to be happy and healthy. Here are a few items that will ensure you and they have a relaxing time.
The Bathroom
If you are fortunate to have a full guest bathroom then a lot of people reading this are really jealous, if you are sharing an already overused bathroom decluttering is essential. In either case you want guests to know what is theirs to use and where to put their things.
Toiletries - Create a basket with soap, lotion, razor, cotton swaps, makeup removers, band aides, hand sanitizer, shampoo, conditioner, shower cap, comb, nail file, clipper, sewing kit, toothbrush, toothpaste, floss, mouthwash. Keep it gender neutral and fragrant free unless you know what your guest uses in their home. I replenish this after guests leave so it is always ready for the next one.
Put the basket on a shelf, in a clean drawer, or on the vanity so your guest knows this is a dedicated spot for them to use during their stay.
Add some extra wall hooks or an over-the-door rack with a nameplate so your guest knows which towel is theirs and where to leave their wet ones.
When bathroom space is limited I place newish, matching, freshly laundered towels (face, hand, towel, and sheet size) in a stack on the bed for guests to use what they want.
Keep a hairdryer and outlet readily available. Lots of people travel with electric toothbrushes or shavers that they may want to plug in.
Don't forget air freshener, a clean toilet brush, extra toilet paper and plunger. Travel and staying in unfamiliar places can wreck havoc on people's digestion.
Encourage guests to do some of their rituals in another area by creating a vanity area or placing a make up mirror with light and magnifier near where they are sleeping.
Sleeping
A good nights sleep means different things to different people so allow for personal preferences. 
The Bed - Layer the bed with different types of pillows, blankets or throws so they can use what they want. Everything should be clean, coordinated and newish. Nobody wants to pull off the sheets at the end of their stay to find a stained mattress cover.
Some people are more sensitive to light so try to create a sleeping space that is dark or provide a fun sleeping mask.
Noise is another issue, city folks may wake up from the chirping birds or be better at tuning out garbage trucks and other street noise. Maybe it's the garage door opening or kids, well just being kids. Provide a radio or small fan for white noise
The fan or electric heater depending on your climate and time of year will also help guests regulate the temperature.
I like to keep a bathrobe and slippers available for guests either in the bathroom or sleeping area because some things you just can't un-see.
Many people take medications either first thing in the morning or at night so keep a carafe of water and drinking glass available. Snacks are also helpful.
Sleep apnea is common so be sure there is an outlet for them to plug into. Keep a multi power plug nearby for phone chargers and any other electronics.
Remember you live there too! Do not give up all your comforts and habits to accommodate a guest. If you do not get a good night sleep or are late for work because someone unknowingly jumped in the bathroom at the wrong time, no one is happy. Setting some expectations ahead of time gives everyone peace of mind.
Have an embarrassing story from when you were a guest in someone's home? Go to our social media pages Facebook, Instagram, Pinterest, and share your story.
Thanks for reading,
Savvy
We may receive a small commission at no additional cost to you from the links below and in the post above, but we think these companies are worth sharing.
Inspiring Reads -

 
Fund literacy and protect the planet when you buy books from Certified B Corporation, Better World Books. To date, Better World Books has donated over 35 million books, raised over $34 million to fund literacy programs and libraries, and reused or recycled over 450 million books keeping them out of our landfills.
Doing it Right -

 ZWS
Shop Now at Zero Waste Store to make your daily routine zero waste, sustainable, cruelty free, vegan and plastic free. Offering a wide range of essentials for your house, hair, body and more. Vetted products are packaged plastic free, ship carbon neutral and they donate to 1% for the planet. Every small change has a big impact so start today.

In Case You Missed It - 
The Futon Shop Empowering Organic Living with healthy, all natural, organic futons made in the USA. Futons are a fabulous way to ensure your guests get a comfortable sleep. See the wide selection of futons, mattresses, pillows and more.  

PlushBeds is committed to using certified organic and natural materials to handcraft, high-quality, eco-friendly mattresses and bedding accessories. GOTS Certified, GOLS Certified, GreenGuard Gold Certified, and CertiPur Certified are just a few of the third-party certification standards PlushBeds adheres to. USA made in California using handcrafted techniques passed down through generations ensures that each mattress has the quality, durability, and support you deserve for a superior night's sleep. PlushBeds backs this up with a 25-year warranty, 100 night risk free sleep trial, and free shipping. 

ECOS Paints - Environmentally friendly, water-based paints for your home that is non-toxic, zero VOC and hand crafted in their South Carolina plant. Exceptional coverage up to 560 sq. ft. per gallon and a transparent ingredient list make ECOS Paints the healthy home choice.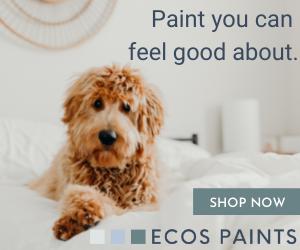 East Fork Pottery takes a stand for social equality.  Partnering with community outreach organizations to stretch outside their comfort zone; paying employees a living wage, they are now working towards increasing wages to a family living wage.  Receiving Carbon Neutral Certification and B Corporation Certification has inspired them to make even greater changes. East Fork's About Page was part of our inspiration for starting The Savvy Elephant. AND we haven't even touched on how stunning and beautiful their pottery is!  See for yourself by clicking through to the East Fork Website.  

Want More 
Leave a comment below, or drop us a line if you have a question or want us to look into a topic you think will interest The Savvy Elephant community.
The Savvy Elephant is dedicated to helping you create a happy, healthy home by sourcing heirloom quality sustainable furniture and home décor made with reduced chemicals and sustainable materials that will protect you and our planet.