Does street traffic keep you up at night? Or maybe it is you partner snoring? Sleep deprivation does more than just leave you cranky the next day.  High blood pressure, diabetes and heart disease are just a few known long term affects, but making a few changes in your home can help and we identified 10 ways to help get the good sleep you need to live the life you want.
 

Windows

 

- Double glazing is an excellent way to reduce noise from the outside.  Can't upgrade install drapery panels in front of your windows to absorb noise.

Landscape

 

- Planting trees is good for the environment and acts as a natural buffer from your noisy neighbors.

Fencing

 

- Acts as a buffer and let's be honest there are some things you would rather not see anyway.

Carpet

 

- Wall to wall may not be your thing, but laying area rugs over hard surfaces helps muffle noise.

Furniture

 

- Placing sofas or bookshelves against the wall absorbs noise from neighbors or kids.

Acoustic Wall Panels

 

- Decorative wall panels in felt or other soft absorbing materials dress up any room.  Vintage blankets or small area rugs can also be hung on a wall.

White Noise

 

- This may seem counter intuitive, but adding a soft, relaxing sound such as a water feature will mask harsher sounds and help you relax.

Equipment -

 

When choosing appliances pay attention to the sound rating and look for 40-50 dB.  Outside your home equipment can be higher, 70-80 dB, but think about location. Is your HVAC compressor outside a bedroom window?

Quiet Zone

 

- Pick a particular area in the home, or determine a particular time of day if spaces are multi-functional to be free of electronics and day dream.

Be a Good Neighbor

 

- You may be a night owl, but are your neighbors? Some communities have quiet time rules for loud noise. Be considerate when having a party, running equipment, or doing home improvements.
How do you reduce noise in your home? Go to our social media pages Facebook, Instagram, and Pinterest, and share your story. 
Keep reading for other sustainable products from our affiliate partners,
Savvy
We may receive a small commission at no additional cost to you from the links below and in the post above, but we think these companies are worth sharing.
Inspiring Reads

 - 
Fund literacy and protect the planet when you buy books from Certified B Corporation, Better World Books. To date, Better World Books has donated over 31 million books, raised over $32 million to fund literacy programs and libraries, and reused or recycled over 386 million books keeping them out of our landfills.
Doing it Right - 
The Futon Shop Empowering Organic Living with healthy, all natural, organic futons made in the USA. Futons are a fabulous way to ensure your guests get a comfortable sleep. See the wide selection of futons, mattresses, pillows and more.  

In Case You Missed It - 
PlushBeds is committed to using certified organic and natural materials to handcraft, high-quality, eco-friendly mattresses and bedding accessories. GOTS Certified, GOLS Certified, GreenGuard Gold Certified, and CertiPur Certified are just a few of the third-party certification standards PlushBeds adheres to. USA made in California using handcrafted techniques passed down through generations ensures that each mattress has the quality, durability, and support you deserve for a superior night's sleep. PlushBeds backs this up with a 25-year warranty, 100 night risk free sleep trial, and free shipping. 

ECOS Paints - Environmentally friendly, water-based paints for your home that is non-toxic, zero VOC and hand crafted in their South Carolina plant. Exceptional coverage up to 560 sq. ft. per gallon and a transparent ingredient list make ECOS Paints the healthy home choice.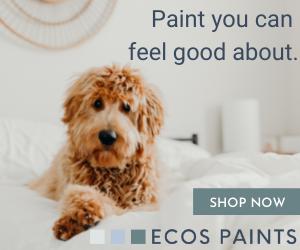 East Fork Pottery takes a stand for social equality.  Partnering with community outreach organizations to stretch outside their comfort zone; paying employees a living wage, they are now working towards increasing wages to a family living wage.  Receiving Carbon Neutral Certification and B Corporation Certification has inspired them to make even greater changes. East Fork's About Page was part of our inspiration for starting The Savvy Elephant. AND we haven't even touched on how stunning and beautiful their pottery is!  See for yourself by clicking through to the East Fork Website.  

Want More 
Leave a comment below, or drop us a line if you have a question or want us to look into a topic you think will interest The Savvy Elephant community.
The Savvy Elephant is an online marketplace bringing you heirloom quality sustainable furniture and home décor. Shop responsibly with brands that support your values for a healthy, happy home.